Production Details
Product & Production Details
The anatomy of a perfect graphic display. A perfect graphic display is one that has the best high fidelity colour, a brilliant non-glare surface and sufficient rigidity and strength to withstand years of use.
While the needs of different hardware systems vary there are some common elements to the perfect graphic panel.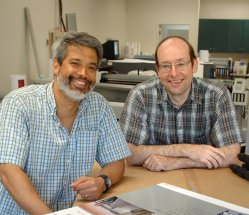 Each of the following elements may seems minor, but together, they can make the difference between a good display, and a great display that will last.
1. Top-of-the-line printing technology. Your graphic needs to be printed on the most up-to-date printing equipment, with the best quality inks and colour management techniques.
2. High quality print media. You should be using a heavy polyester film-based media as it can handle high ink loads and is very resistant to the stresses and strains of printing and laminating. This heavyweight media also allows for the use of high-temperature adhesives that won't de-laminate if the panel is stored rolled for a long period of time, or weaken if the panel is heated under bright trade show lighting.
3. Front laminates and rear backers. The top surface (viewing surface) should have a two-layer laminate with a polyester component for strength, as well as a textured copolymer layer for a crystal texture to break up glare without dulling the image. On the back of the panel you need a three-layer backer with two polyester layers encapsulating a very thin metallic foil. The polyester layers add rigidity and the metal foil gives 100% light block, which is necessary to prevent unwanted shadows and de-saturated graphics if there are light sources behind the booth.

4. Detailed finishing. After putting effort into making sure your graphic and hardware look great, be sure to pay attention to the final details that will really make your display shine. At Image House Digital, we do all precise cuts on a custom glass table with a specialized trimmer (accurate to .008" over a 100" length) for the most precise fitting panels available. For mural panels we use special hi-energy bipolar magnetic tape. The tape snaps in position and supports the panel more aggressively, taking the stress off the top hanger bar.